Business growth through market expansion will be the primary business strategy of multinational corporations.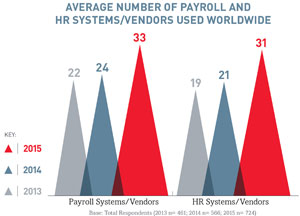 63% of executives say the number of employees outside of their company headquarters will increase in the next year or so.
That is up 4% from 2013, reflecting a consistent 3-year trend and supporting other stated goals of realizing growth through new markets.
At the same time, there are multiple disconnects in this same group of organizations where Human Capital Management (HCM) capabilities are not aligned with the stated goals.
If these and other critical infrastructure issues remain unaddressed, success of their business strategies could be undermined.
The ADP Research Institute®, a specialized group within ADP®, surveyed more than 725 HR decision-makers in global multinational organizations with 5000 or more employees to provide insight. Helping HR and corporate executives to better understand the correlation between corporate goals and HCM, the study explores the value of global HCM components as well as the plans and needs of global executives.

Download the full report at ADP Research Institute


Learn More About ADP SmartCompliance®