This article was originally featured in our ADP Eye on Washington update.
The Federal Unemployment Tax Act (FUTA) tax rate is normally 0.6% of taxable wages paid, or $42 per employee per year. However, employers in eighteen states and the U.S. Virgin Islands will pay increased FUTA taxes in January 2013, based on FUTA taxable wages paid in the affected jurisdictions during 2012.
Background
Almost all private sector employers pay federal and state unemployment insurance taxes on wages paid. The Federal tax is nominally 6.0%; however, the FUTA provides for a credit of 5.4% for payment of state unemployment insurance (UI) taxes, making the effective Federal tax rate 0.6 % (.006), up to the taxable wage limit of $7,000.  When state UI funds are depleted, as occurred in many states in recent years, states draw from a designated Federal loan account. If such loans are not repaid within two consecutive years, part of the 5.4% FUTA tax credit is reduced, thereby increasing the effective FUTA tax rate in those states.
When this "credit reduction" applies, the FUTA tax typically increases by 0.3%, or $21 per worker, payable in January of the following calendar year with IRS Form 940. This credit is further reduced annually by 0.3% until loans are repaid.  The United States Department of Labor has identified the states that are subject to FUTA credit reduction for 2012. They are: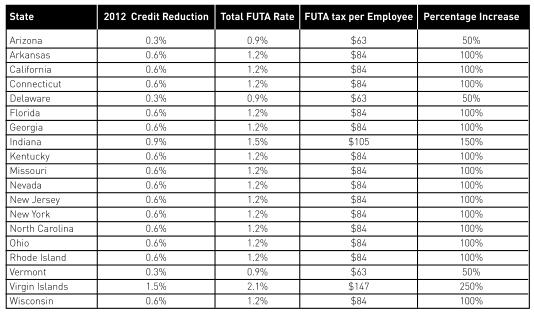 Source: U.S. Department of Labor – http://www.oui.doleta.gov/unemploy/docs/reduced_credit_states_2012_final.xls
Example:
An employee works for ABC Corporation beginning in January 2012, receiving wages of $60,000 for the year. ABC Corporation's FUTA tax due on the individual's wages paid in 2012 would normally be $42 ($7,000 x 0.6%). If the employee worked in Florida, which is a credit reduction state for the second consecutive year, the total FUTA tax would be $84 ($7,000 x (0.6% + 0.3% + 0.3%)).
For additional information, view the linked article from the Internal Revenue Service.  If ADP is responsible for filing Form 940 for your organization, you will receive an invoice shortly after January 16, 2013 for credit reduction amounts due with the 2012 IRS Form 940.
What to Expect for 2013
The FUTA tax rate is scheduled to remain at 0.6% of wages paid, up to the taxable wage limit of $7,000, or $42 per employee per year. Employers in the credit reduction states identified above should plan on increased FUTA taxes in 2013 (payable in January 2014). Unless a state pays off the loan or takes other specified actions, the FUTA credit reduction will automatically increase by another 0.3% in 2013; however, each state's status will not be determined until at least November 10, 2013.
Interest Assessments
Employers should also plan for annual interest assessments from states with outstanding loans. More than half of the states are expected to assess employers for interest in 2013.
Controlling UI Costs
UI remains the only payroll tax that employers can control by prudent human resource management and careful handling of UI claims. Employers' state UI tax rates rise in direct proportion to unemployment claims of former workers. ADP can assist employers in managing UI claims and help to keep UI taxes as low as possible in this difficult environment.
Learn more about employment tax solutions from ADP that work with your existing payroll system.
Learn more about unemployment compensation management solutions from ADP.